GLI EVANGELISTI CHIEDONO SEMPRE SOLDI
ED ECCO IL RISULTATO DEI SOLDI DONATI DAI PARROCCHIANI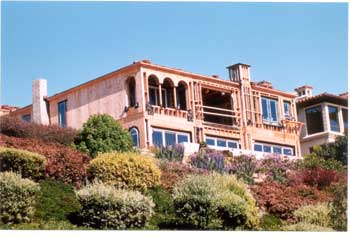 BENNY HINN HOUSE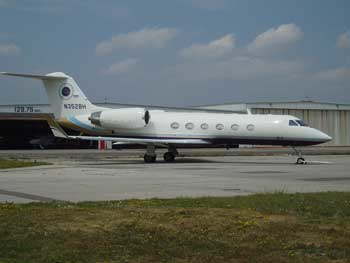 HIS PLANE
Why Benny Hinn Became Our Wacky Neighbor
By John Bloom | 05/20/2008
If you drive west from Dallas, through the neo-moderne lunarscape of a pod city called Las Colinas, past a massive international airport on a denuded prairie, into the warren of faceless office buildings that make up cosmopolitan Grapevine, you'll never find Benny Hinn.
He wants it that way. The nerve center of his worldwide organization is tucked away in a group of cheap white nondescript buildings that look like the kind of domiciles favored by Mafia fronts on the wharves of New Jersey. Inside, several dozen employees process an estimated $100 million per year in donations from people who believe in Hinn as a sort of Elmer Gantry for the 21st century. (Obviously they didn't read the novel.)
Now go the other way, into the cul-de-sacs and barrios of deep East Dallas. On a dead end street next to a nursing home, in an expansive two-story house once owned by the Dallas mob, the Trinity Foundation works 24/7 trying to find out just how much money passes through Grapevine, where it comes from and where it goes, running undercover operations, infiltrations, spying, surveillance, the cultivation of disgruntled ex-employees, and even going through Benny Hinn's garbage in an effort to . . . well . . . to make him prove he's not a fraud.
"All we want is for Benny Hinn to make good on promises he made to me in 1993," says Ole Anthony, president of the Christian watchdog organization. "He promised he would stop airing fake healings, that he would medically verify all healings, that he would wait six months after the healing before putting it on TV, to make sure it was authentic. He said he would do all these things, and he's done none of them. It would also be nice if he would submit himself to a real theologian for examination. Some of his teachings are off the scale, even bordering on necromancy."
What the heck is Benny Hinn doing in Dallas?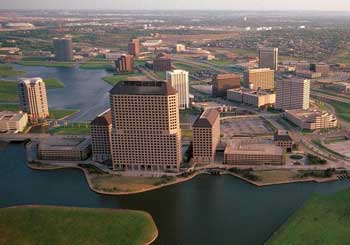 Las Colinas, TX
It's weird. It was weird when he announced he was moving to Dallas in 1999, pretty much abandoning his church congregation in Florida. It was weirder still when he announced that God had ordered him to build a $30 million World Healing Center in Irving, making it sound like a combination theme park and New Age miracle spa. The way he laid it out, it would be a sort of shrine to famous faith healers of the past, complete with "stereophonic statue gardens," as well as a Holy Ghost Mayo Clinic for the halt, the lame and the afflicted. I had visions of wheelchair-bound hordes being lifted off jumbo jets at DFW Airport and convoying their way over to Las Colinas, like pilgrims pouring into a Disneyworld version of Lourdes. Isn't this the kind of thing that belongs in Tulsa?
Fortunately, God changed his mind in the summer of 2002 and told Hinn not to build the healing center after all, even though he had spent two years collecting donations for it. (God was apparently vague about what Hinn should do with the money. The county tax assessor was less vague, telling Hinn it was unlikely that his tax exemption would survive theme-park ownership.) Hinn said it was just a timing matter. God wants the healing center, but he didn't want it right then. (Since the only other building the Almighty is known to have ordered is the Temple at Jerusalem, maybe He's just unimpressed with Irving.) Hinn finally said he would keep his headquarters in Dallas because the central location saves him money.
"Good," says Ole Anthony. "I told him it will save us money, too."
If anything, the move to Texas looked like an attempt to spread his operations over as many geographical jurisdictions as possible. For example, Hinn's TV show, "This Is Your Day!," originates in studios in Orange County, California, and airs in 192 countries, making it one of the most widely disseminated programs in the world. Hinn is so ubiquitous on religious TV, in fact, that you would assume by this point--35 years into his preaching ministry--that he would have become one of those household names, like Billy Graham, who's expected to lead the invocation at the Super Bowl and counsel the President and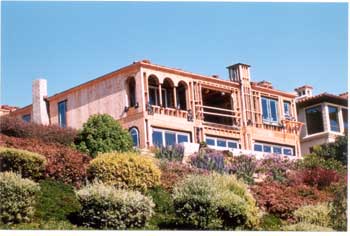 appear on The Today Show in times of national crisis. But the opposite is true
Aside from his twice-monthly appearances at his own choreographed "crusades," held in the largest sports arenas on the planet, Hinn is a virtual recluse, surrounded by armies of bodyguards, ensconced in an $12 million oceanfront hacienda in southern California, traveling by private jet for "snorkeling vacations" in the Cayman Islands, staying in $10,800 per night presidential suites in Italy, a $15,000 per night suite in Greece, and claiming a level of financial secrecy and paranoid internal security that's more often associated with drug dealers than men
of the cloth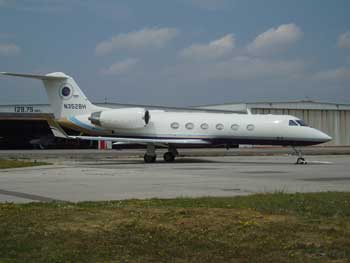 By surrounding himself with yes-men and stage-managing every detail of his public image--even to the point of stiff-arming the occasional paparazzo who tries to photograph him--he has more in common with Michael Jackson than Jerry Falwell. He may, in fact, be the first Christian rock star. The analogy is not Paul McCartney, though--Benny's career is more like Cher, as he makes it up as he goes along, re-inventing himself whenever necessary.
He has no church. He belongs to no denomination. He's not even affiliated with any particular religion, although his buzz words indicate he tends to dwell on the freaky backwoods fringe of Pentecostalism. As recently as three centuries ago, he probably would have been burned as a heretic. (To give you some idea of his doctrinal strangeness, he once preached that the Trinity is actually nine persons, because each member of the Trinity--Father, Son, Holy Spirit--is also a Trinity. He also says that God and the Holy Spirit have real bodies, with eyes, hands, mouth, etc. Various theologians have trashed him, of course, for preaching "new revelations" directly from God that turn out to be, when examined, variations of thousand-year-old heresies.) He thinks of himself as a prophet (even when his prophecies don't come true) and, in one burst of grandeur, "a new messiah walking on the earth." He believes that the Biblical Adam flew into outer space, that when God parted the Red Sea he made it into a wall of ice, that God talks to him more frequently than he talked to, say, Moses, that a man has risen from the dead in his presence, that a man turned into a snake before his eyes, that angels come to his bedroom and talk to him, and that the only reason we're not all in perfect health, living forever, is that there are demons in the world, attacking us. He's expressed opinions normally heard only on schizophrenia wards, and he's done it in front of millions of people--and still they come. They come in such numbers that thousands have to be turned away, and even the ones turned away gladly give him their money.
What's going on here?
Benny Hinn says that what's going on here is that he was "anointed." It happened either at the age of 11, when Jesus first appeared to either him or his mother while he was living in Jaffa, Israel, or maybe 18, when he had a conversion experience at a high school in Toronto, or maybe shortly after that, when he took a bus trip to Pittsburgh to see the faith healer Kathryn Kuhlman. It's difficult to say exactly when it happened, or what form it took, because Hinn parcels out little bits and pieces of his background as it suits him, then embellishes the stories so that isolating any one event in his life is like puzzling through a 30-year-old KGB file. What we do know--because he returns to it time and again--is that a transforming moment in his life occurred when, as a teenager, he was assigned to take care of a crippled arthritic woman on a pilgrimage to see one of Kuhlman's healing services, and he saw the woman apparently lose all pain in her legs and "untwist," as he put it. Depending on how cynical you are, he had either found his holy calling, or discovered one of the oldest American carnie games. Ever since then he's been praised as a true miracle worker--Oral Roberts himself is his biggest fan--and debunked by various investigative reporters around the world, including 60 Minutes Australia, which concluded, "Benny Hinn is a fake. A dangerous fake. What he does is prey on the sick, the desperate and the gullible." (Trinity Foundation does most of the legwork for all the various networks and newspapers who have investigated Hinn. Of the Australian report, Anthony says, "Apparently in Australia you can just go ahead and say the truth out loud.")
Hinn is a peculiar sort even by the standards of the ongoing circus called American televangelism. If you look at the superstars of the past 25 years--Bakker, Swaggart, Tilton-- they're all of a type: WASPY extroverts with good looks in a sort of dime-store gigolo way. (Even Jim Bakker had that lost-puppy look that's so attractive to lonely widows. Older women living alone are the number one demographic group when it comes to sending money to television ministries.) Hinn, on the other hand, is short, slight, semitic, round-faced, and often sports a haircut that looks like a scoop of Rocky Road ice cream that's been knocked off the top of the cone. He reminds you of a discount Persian rug merchant, not a spiritual leader. He's a Palestinian with a Greek father and Armenian Turk mother, raised in a Catholic school along with eight brothers and sisters who were stuffed into a tiny two-bedroom apartment in the Tel Aviv suburb of Jaffa. In Hinn's books he claims that his father was the mayor of Jaffa. As it turns out, Jaffa had no mayor after the year 1948, four years before Hinn was born. Like many factoids in the Hinn legend, this one seems to be a fib.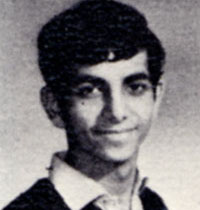 Toufik Benedictus Hinn, known to his family as "Tutu," didn't much like living in Palestine with an Arabic first name, so early in life he became Benny. He was not particularly noted by his classmates at College de Frere elementary school in Jaffa or, after the family emigrated when Benny was 14, at Georges Vanier Secondary School in Toronto. In his sermons and books, Hinn has portrayed his childhood as that of a social outcast, handicapped by a severe stutter, who was nonetheless a stellar student. But when G. Richard Fisher and M. Kurt Goedelman, two journalists who write for Christian publications, looked into Hinn's youth, they found that both claims were untrue: nobody remembered Hinn stuttering, and he had dropped out of high school after the 11th grade. The reason I use these particular examples--"white lies" that by themselves don't really mean that much--is to indicate how twisted Hinn's mythmaking can be. He invents things that reflect badly on him just as easily as he invents things that reflect well on him. Psychologically he can't stand the unadorned truth.
Occasionally, though, the enhancements expand into the land of the whopper. For example, Hinn claims to have preached at an all-girls Catholic school in Jerusalem in 1976 and "every single girl in that school got saved, including all the nuns." Since there's only one Catholic girls school in Jerusalem, Schmidt's Girls College, it was a fairly easy matter to question all the nuns who were there in 1976, as well as Father Dusind, who has overseen all religious instruction since 1955. The result? "This is nonsense, real nonsense," Dusind told Fisher and Goedelman. "It never happened and could not happen because a Charismatic healer or Protestant preacher would never ever be let in to talk to the girls."
Or how about the time Hinn went into a Catholic hospital in Sault Ste. Marie, Ontario, and healed everyone there? The way Hinn tells it is that he, three other Pentecostal preachers, and seven Catholic priests held a service together in the hospital chapel, where everyone went to work with "anointing bottles" and patients were healed instantly. They were then asked to lay hands on all the patients in the hospital's rooms, so Hinn and his "Miracle Invasion" team went down the hall healing people, knocking them down with God's power, until "the hospital looked like it had been hit by an earthquake."
The reality--easily confirmed by speaking to officials at Sault Ste. Marie General Hospital and the Gray Sisters of the Immaculate Conception who work there--is that no patients were released the day Hinn held a small service in the chapel and that, furthermore, "Mr. Hinn's claims are outlandish and unwarranted."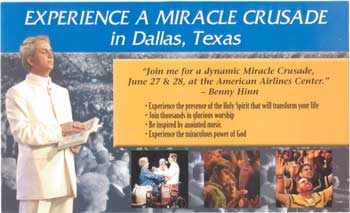 Okay, so what? Benny Hinn isn't the first flamboyant white-suited evangelist to play fast and loose with "miracles," and I'm sure he won't be the last. What makes Hinn different is that, after moving to Orlando in 1979 and founding the Orlando Christian Center in 1983, he became the most famous--some would add, "and richest"--evangelist in the world. When he preaches in the Philippines or Africa, for example, it's not uncommon to have 500,000 people at the service